I have a couple other Holy Stone drones. What sold me on Holy Stone was their customer service. They usually go above and beyond to help their customers feel happy. My customer service representative is Libby, and she helps me out with all my orders.

My daughter is 7, and enjoys flying the drones a little bit, not all that much. It's still a little much for her to try to figure both sticks out at the same time.When I showed her this type of drone, her eyes lit up; she really likes the fact that you can keep HS220 folded so that it doesn't get damaged when she crashes it. The props are guarded at all times which is pretty nice for an entry-level drone.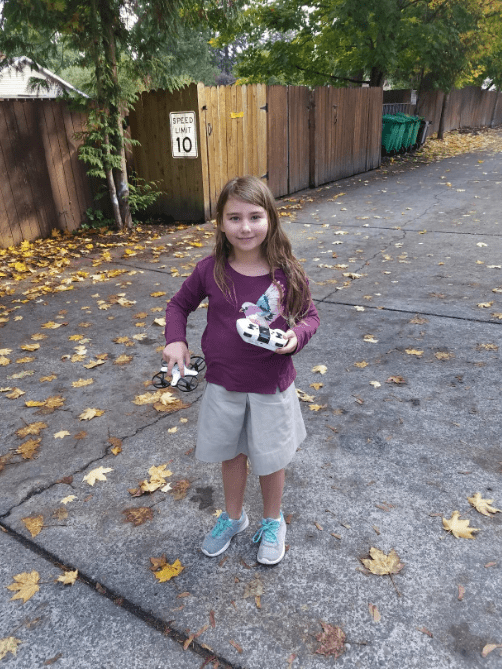 The 0.3 megapixel camera is built right into the drone, nothing to add or remove. The camera only works when the propellers are unfolded. Same with doing flips. The drone will not do flips when folded in.


There are four speed modes, and the fourth, or expert mode, is pretty fast. Speed 2 or 3 is good for taking stills or a little bit of video.

Also, the drone comes with one touch launch and landing. Simply press the button and push up on the left stick, or the throttle, and the drone launches to 4.5 feet off the ground. My daughter likes that she doesn't have to keep adjusting the throttle. She mostly just flies around with the right stick. All in all it's a really fun flyer, it's pretty graceful and best suited for low wind or no wind. A gentle breeze will affect the hovering of the drone.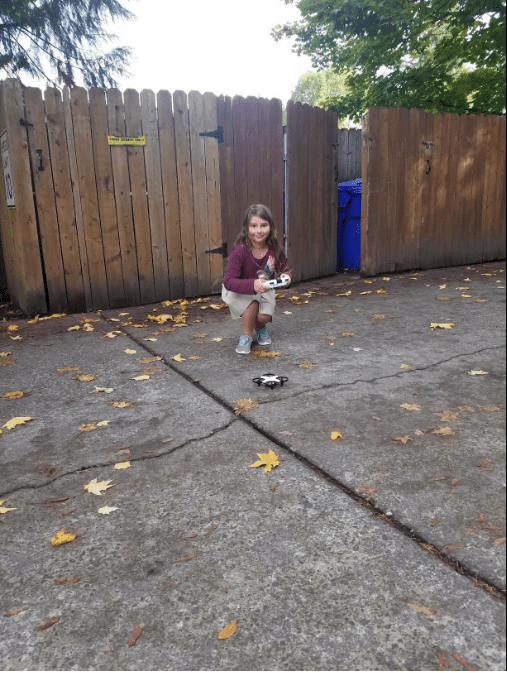 The fpv syncs pretty easily to your phone using a free app to download. The transmitter has an adjustable clip phone holder which folds nicely back into the transmitter when not in use. Small note about Wi-Fi fpv: Wi-Fi fpv is not really suitable for flying; it's more for taking pictures and for seeing what your drone sees. If you're looking for a true fpv flying experience, check out Holy Stone's HS230, or Mercury 3. The HS230 uses a 5.8g analog signal and has a lcd display built into the transmitter.

I like flying this drone around while letting my other Holy Stone drones rest. I'm more of a racer type flyer, but this is fun to chase my daughter around or just work on easy maneuvers. I've noticed with the auto hover, it affects my yaw (left stick) slightly. The drone seems to oversteer a little, but maybe I just need to get used to the spring on the left throttle stick.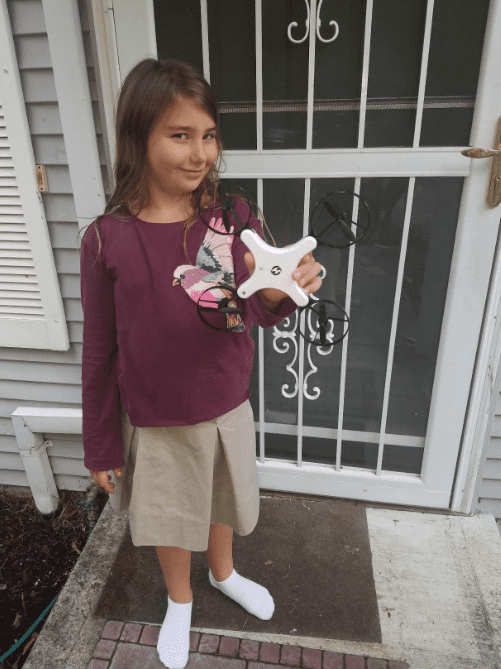 The drone comes with 2 batteries and the second one plugs into the transmitter itself. The upside to this, is that you simply swap out batteries for a second flight, since the transmitter uses very little battery power. The downside is, the transmitter is also the charging station which means you have to charge the batteries one at a time.

With most all of Holy Stone's products, writing an honest review gets you an extra battery, which is a really nice touch.

I'm really happy with the versatility of this drone; if you have a younger person in the household that wants to get into the sport this might be a good fit for the family.