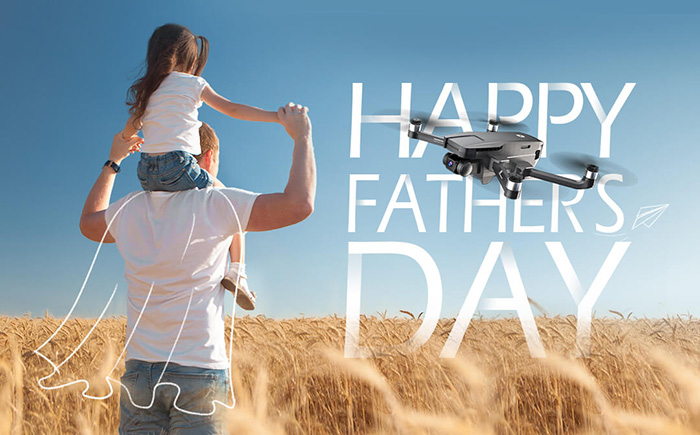 Fathers are like superman
Fathers are like teachers
Fathers are like friends
However, there is another side to him, the side of a boy. But he seldom shows this side to his children. When in front of his children, he naturally becomes patient, mature, and caring.
Men are boys until they become fathers, do you agree? Have you ever noticed any childish but adorable behavior of your dad's (or yours, after you've become a father)? You are more than welcome to share these stories in the comments!
We've selected some great drone gifts for all dads. Check them out!
Maybe you'll discover another interesting side of him as he picks up this new hobby. Watch him launch the drone, taking countless beautiful aerial shots and videos for the family... The expression of excitement and wonder on his face will be the best father's day you can ever offer!
HS720G - $20 dad-coupon (6.8~6.19): https://amzn.to/3Q6CY8S
Comes with 4K camera, and 2-axis Gimbal, it's our 2022 flagship model. Dad will definitely enjoy the super easy control and ultra-clear images.
3277 Feet / 999 M flight distance, providing an excellent bird eye's view of the scenery.

26min per battery, long flight time.

GPS auto-return-home and GPS follow me, Tapfly, and so on...
HS430 - 17% off for our dad (6.13~6.19): https://amzn.to/3aOHskx
A lovely, little drone with a 1080P camera for fpv(first-person view), our new release for drone beginners. Perfect for indoor fly and relaxation, and outdoor fly when the wind is still.
131 Feet / 40 M flight distance.

13 Min x3 battery in one set, up to 39 Min happy time.

Throw to Go, Voice Control, Circle Flight, full of fun features.
Enjoy the flight and have a HAPPY FATHER'S DAY!
Don't forget to share the "childish" behavior of your fathers' (or yours, after you've become a father) with us in the comment section below!