Hey there!
Holy Stone Christmas Video Contest active from Dec. 1st to 30th, we have received many works, and will continue to update finalists!
You can simply use a smartphone to shoot your drones, with the Christmas element, to participate in this contest and win the big prize (Cash and drones).
-Vote date will start from DEC.29TH~DEC.30TH. Vote in this blog comment, find your favorite video author name or number, and like it!
-Winners Announced: DEC.31. Combined with the opinion of admins and likes, to pick winners!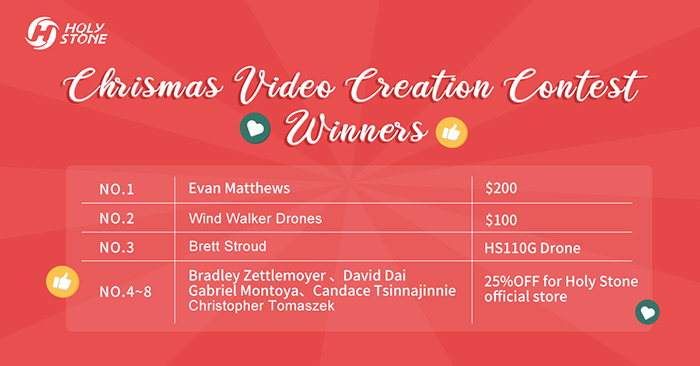 To know rules about the contest: Christmas Video Creation Contest| WIN $300.
Let's enjoy the Christmas Video below. ( thank you for bringing us such a great Christmas feeling!^^)
Christmas Video Creation Contest - Have Fun with Holy Stone
(①. Author: Evan Matthews; Drone: HS470)
Christmas Video Creation Contest - Have Fun with Holy Stone
(②. Author: Wind Walker Drones; Drones: HS165 and HS200)
Christmas Video Creation Contest - Have Fun with Holy Stone
(③. Author: Bradley Zettlemoyer; Drone: HS720E)
Christmas Video Creation Contest - Have Fun with Holy Stone
(④. Author: David Dai; Drone: HS720E)
Christmas Video Creation Contest - Have Fun with Holy Stone
(⑤. Author: Christopher Tomaszek; Drone: HS510)
Christmas Video Creation Contest - Have Fun with Holy Stone
(⑥. Author: Gabriel Montoya; Drone: HS700D)
Christmas Video Creation Contest - Have Fun with Holy Stone
(⑦. Author: Candace Tsinnajinnie; Drone: HS700D)
Christmas Video Creation Contest - Have Fun with Holy Stone
(⑧. Author: Brett Stroud; Drone: HS510)