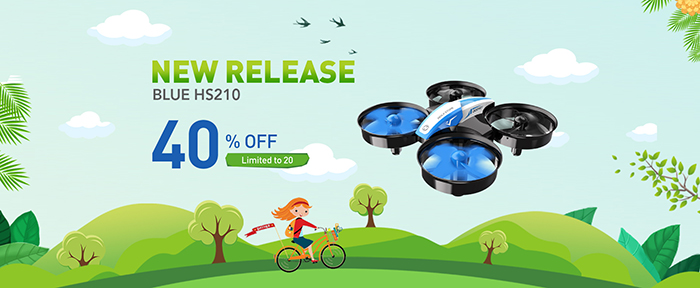 What a vibrant day! Do you want to go to park with your kids in spring? We have a big saving for you, that is 40% OFF ON NEW BLUE HS210 MINI DRONE.
Some of you must have seen this one in red, now it got blue and green, so that you can play with friends together without mistaken identity. which one do you prefer to be on your own behalf?
The HS210 is so mini that absolutely can be the children's first choice! Although it does not have a camera, many interesting features can test their sensitivity, judgment, and imagination, such as:
1. 3 Speed Mode: to fly carefree and graded exercises for beginners.
2. Altitude Hold : Stable hovering in the air, can be controlled by one hand.
3. Headless Mode: No Need to Identify the nose of the drone.
4. 4 Ways to Flip : Show Your Friends the Cool Toy.
5. One Key Take-off/Landing: Easy to start and come back.
6. 3 Batteries : Over 20 minutes flight time, to enjoy your VIP flight.
You can check all in the video!
This special offer is only available for a limited time, from now to 20th MAY.Use the coupon code: SCWKKL3V on Holy Stone Official Store for HS210 ,Amazon Store for HS210